The 911 FUND neither solicits nor accepts financial contributions from the public.
Our efforts are geared toward collecting surplus and/or decommissioned fire equipment that's in decent working condition (turnout gear, boots, helmets, gloves, hoods, SCBA, tools, hose, nozzles, portable ladders, fire extinguishers, ventilation fans, generators, saws, lights, airbags, Haz Mat supplies, portable radios, etc.), EMS equipment (defibrillators, prone boards, etc.), as well as used fire apparatus and ambulances, then donating it to needy fire departments on a world-wide basis.
Fact: In the United States and elsewhere, 10 or 20-year old surplus or decommissioned fire equipment and apparatus that's being replaced by newer equipment and apparatus, may no longer meet NFPA, OSHA or other standards, is often in excellent shape, and is typically in far better condition then the equipment and/or apparatus used in many developing countries.
Fact: The equipment and/or apparatus that you donate can mean the difference between life and death for first responders in developing countries, and is often the first such equipment to which they have access.
Fact: The 911 FUND is an approved 501(c)3 not-for-profit charity (federal tax ID #20-2057218; NYS Charities Bureau Registration #21-1321), and all donations of surplus or decommissioned equipment and/or apparatus are tax deductible to the extent permitted by law.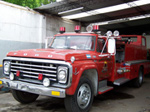 We are always looking for donations of firefighting equipment, apparatus, ambulances, unused medical supplies and durable medical equipment.**
Click here to access the 911 FUND's Equipment/Apparatus Donation Form.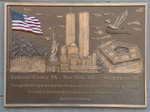 Departments that are requesting our assistance need to complete the 911 FUND Questionnaire (in English or Spanish).
** Whenever possible, the 911 FUND endeavors to follow the World Health Organization's Guidelines for Health Care Equipment Donations, March 2000.
Start a Recovery Collection Program
If you are interested in setting up a firefighter equipment, apparatus and/ or medical supply recovery program in your community, the 911 FUND can help. Please contact us for assistance.